New Moon in Pisces 3 March 2022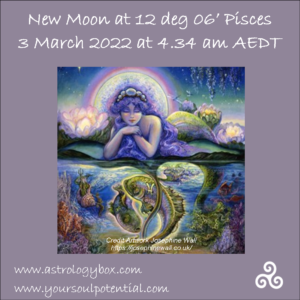 Celebrate the last moon of the astrological new year with an informative astro chat and experiential group meditation.
Wednesday 2 March 2022    7 – 8.30pm
Online via zoom – registration essential
Book here: https://www.trybooking.com/BXECF
All events here:  https://linktr.ee/yoursoulpotential
With a new moon in Pisces we approach the end of the circle of the zodiac and the astrological year.  This is a time for completion and closure, for letting go and healing, allowing any painful thoughts, emotions and experiences to dissolve into the watery Pisces mist in readiness for the fresh energy of the new year at the March equinox.  This is a time for inner reflection and stillness, allowing space and time for day dreaming, imagination, intuition and creativity. Pay attention to your dreams and subtle communication. Acceptance and forgiveness are key themes at this time.
At this new moon both the traditional and modern rulers of Pisces, Jupiter and Neptune, are in the sign of Pisces, boosting the Piscean energy and encouraging us to dream big. Our sensitivity and empathy is likely to be heightened, creating avenues for spiritual breakthroughs as well as bringing a sense of overwhelm. Be aware of your boundaries and not taking on other people's energy or too much distress at the global events. Tune into the higher aspects of unity, peace and oneness and send loving energy to all those suffering.
With Mars and Pluto together (conjunct) in Capricorn on the world stage we are witnessing the lower expression of aggression, power, domination, violence and force.  Focus on transforming this to a higher expression of empowerment and right action.  The presence of Venus in this conjunction brings hope of balance, harmony, cooperation, compromise and peace.