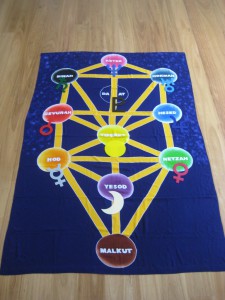 The Tree of Life is a universal symbol found in many spiritual traditions. It is a mandala encompassing wisdom, protection, strength, bounty, beauty, and redemption.  In the Jewish mystical tradition, Kabbalah, it embodies Creation, Existence and return to the Divine through ten spheres (Sephirah) and twenty-two connecting pathways.  There are correspondences between each of the Sephirah and the astrological planets. 
Each Tree of Life has been individually hand batiked on durable natural fabric (rayon) and represents an individual piece of art.  The top is hemmed for easy wall hanging with a rod or cord.
Size : 1.15m (45″) wide x 1.7m (67″) long
Ideal for use with table size Astrologybox planets, as a chair cover, throw or wall decoration. 
Online Price: A$65 (approx US$47) plus postage & packaging (batik only, planets not included) Order here