Happy Astrological New Year
All events here:  https://linktr.ee/yoursoulpotential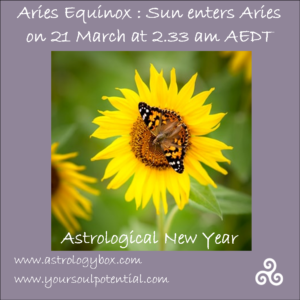 The Sun's entry into the sign of Aries marks the start of a new year and in the northern hemisphere the beginning of spring (for us in Australia the beginning of Autumn).  This seasonal shift brings with it a surge of energy as the Sun blazes in the cardinal fire sign of Aries.
The chart of this equinox sets the tone for the upcoming 12 months.  Uranus is strongly placed and squaring both Mars and Venus, indicating conflict and aggression and instability in financial markets.  The higher expression of Uranus is liberation; so set your intentions at this level.  Pluto in Capricorn continues its excavation and exposure of big business, governments and outdated world structures ready for transformation.
Jupiter approaches its conjunction with Neptune, both rulers of Pisces being in Pisces, which only occurs every 166 years, bringing the potential for highly developed spiritual evolution.  Those on a spiritual path may be feeling vast expansion in their energy and awareness.
With most planets clumped together in one hemisphere of the chart, the moon is a singleton at the very last degree of Libra.  She joins the dwarf planet Haumea, Hawaiian goddess of creation and fertility.  Haumea not only creates offspring from all parts of her body, she is able to regenerate herself. She has a "magic wand," the Makalei stick with which she is able to feed and sustain life.  She is a nature goddess who teaches us a holistic view of life and gives us a timely reminder of the sacredness of all life.