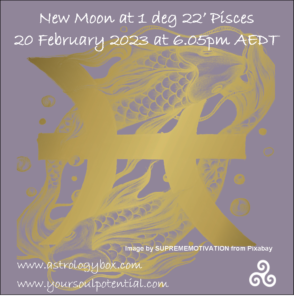 A new moon in Pisces is the last of the astrological year and typically represents endings and completion, Pisces being the last sign of the zodiac. Pisces is symbolised by two fish swimming in circular and seemingly opposite directions, representing the dual and cyclical nature of the cosmic journey.
The watery mutable energy of Pisces lifts us to a new level of spiritual, mystical and creative experience, almost other worldly.  It is highly emotional and tuned into the collective consciousness, acting like a psychic sponge.  Pay attention to your dreams, intuition and creative instincts at this time.
Saturn is conjunct this new moon helping bring us down to earth and stay grounded.  Pisces energy can be susceptible to deception, lies, confusion, illusion and disillusion, so also tune into Saturn's structure and common sense.  This could be a wonderful time to turn your dreams into reality. Both Pisces and Saturn are fairly introvert hermit like energies so take some quiet time, be still and open to receive the divine flow.
Mercury (personal mind) aspects Uranus (cosmic intelligence) bringing flashes of inspiration, ideas ahead of their time, a knowing of things you haven't even learnt and downloads of divine insights.
This new moon is close to the fixed start Formalhaut, one of the four Royal stars of Persia, the four Guardians of Heaven said to be sentinels watching over other stars.  They are also known as the four horsemen of the apocalypse and the four archangel stars.  Formalhaut's role is that of Gabriel and heightens the out of this world, poetic, magical, sensitive nature of the new moon energy.
The theme of duality, endings and beginnings is highly emphasised at this new super moon.  It is at the first degree of the last sign of the zodiac. Pluto, Saturn and Venus are all at the last degree (29) of Capricorn, Aquarius and Pisces respectively, ready to move into new signs.  29 degrees is a critical degree often emphasising the shadow aspects of that sign.  This could see a last ditch attempt to hold on to power and control, to keep things the way they were, and we might see some extreme actions to try and force this, both personally and collectively.
However the flow is forward and changing.  Be prepared for turbulent waters as the major planets of Pluto and Saturn hover over this critical space of the last and first degree as they change signs and with them the tides turn.
For deeper insights, join our monthly online astro chat and meditation:  https://linktr.ee/yoursoulpotential