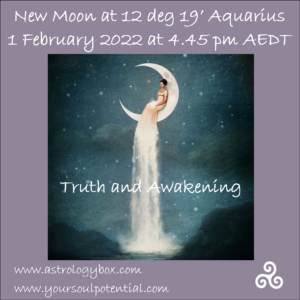 Discover more about this New Moon in an informative astro chat and experiential group meditation.
Monday 31 January 2022    7 – 8.30pm
Online via zoom – registration essential
Book here: https://www.trybooking.com/BWUDQ
All events here:  https://linktr.ee/yoursoulpotential
This Aquarius new moon marks the beginning of the lunar new year; the year of the water tiger. Tigers are known to be the king of all beasts in China and are said to value independence and have a strong sense of justice. Aquarius also stands for truth, freedom, equality, liberty and justice for all humanity as it strives to break down outdated structures and to pursue a fairer and more progressive vision of the future.
This new moon is a tipping point in the ongoing struggle between older, traditional, conservative, patriarchal ways of thinking and being; and a fresh, open, inclusive, expansive, future orientated approach.  Four planets in Capricorn – Pluto, Mercury, Venus and Mars – remind us of the themes of early 2020 when Capricorn was heavily populated and when heavy controls started to be exercised upon our existing freedoms. Saturn, ruler of Capricorn and traditional ruler of Aquarius, is conjunct (very close to) the Sun and the Moon, adding to the sense of control and restriction.
However the ongoing square aspect (90 deg angle) between Saturn and Uranus is highlighted by this new moon; indicating Uranus is starting to gain the upper hand in this tension.  Uranus, modern ruler of Aquarius, brings disruption and unexpected change in pursuit of awakening of a higher consciousness.  Supportive and favourable trine aspects (120 deg angles) from Mars and Venus to Uranus and a beautiful sextiles (60 deg aspect) from Jupiter activate and empower the Uranian energy of truth and awakening.