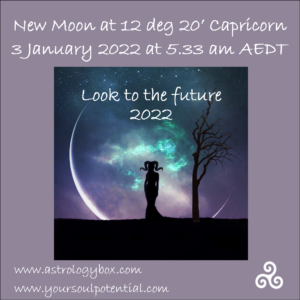 Discover more about this New Moon with Parvati Sundari and Janette in an informative astro chat and experiential group meditation.
Sunday 2 January 2022    7 – 8.30pm
Online via zoom – registration essential
Book here: https://www.trybooking.com/BWHIP
All events here:  https://linktr.ee/yoursoulpotential
At this first new moon of the New Year we have four planets – Sun, Moon, Venus and Pluto – in the sign of Capricorn, a cardinal earth sign concerned with the tangible, material aspects of life with an action and achievement orientation.  Capricorn resonates with the archetype of the Sage, Wise Elder and Wise Woman Goddess as Crone; illustrating wisdom gained through hard work and lived experience.  The image of the cornucopia, "the horn of abundance", associated with Capricorn represents reaping the rewards of hard work and gaining prosperity.
All new moons are an opportunity to wipe the slate clean and reorient towards a brighter future; and this one, being the first of a new year, has an even greater potential.  It is an opportunity to review accomplishments, reassess commitments, and set intentions not only personally but for the collective.  What will you let go of and what will you bring with you and build on to manifest your great intention in 2022?
Pluto conjunct Venus brings intensity in relationships and transformation of values. Jupiter has just moved into Pisces, the sign of its ancient rulership.  At this new moon Jupiter squares the nodal axis, highlighting a karmic theme of 2022, to bring compassion, sensitivity and a renewed sense of faith to both our personal and collective past and our intentions for the future.