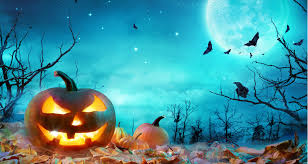 The two most fundamental energies in our birth chart are the Sun and the Moon. The Sun is the light and life of our solar system and astrologically symbolises our sense of individual self and purpose.  As the closest heavenly body to earth, the Moon affects the rhythm of the oceans and is associated with yin, receptive energy influencing the flow of our emotions.  Each night, as the Moon distributes the light of the Sun, we experience the interchange of these energies as the "phases" of the Moon.
A full moon occurs when the Sun and the Moon oppose each other in the sky and asks us to integrate qualities that are considered polarities. In October as we have two full moons falling within the same calendar month; the second one is known as a Blue Moon. The term "once in a blue moon" describes an extremely rare or unusual occurrence and this month is no exception.
The first full moon occurred on 2 October* at 9°8' Aries (Sun at 9°8' Libra, Moon at 9°8' Aries).  This full moon was tightly conjunct Chiron in Aries implying an opportunity for emotional healing or healing of the sense of self and self assertion.
The second full moon of the month takes place on 1 November 1.50 am (31 October in most of the world) at 8°36' deg Taurus (Sun at 8°36' Scorpio, Moon at 8°36' Taurus) the same day as Halloween – the last time this happened was 75 years ago.  Halloween or Samhain is a festival originating from an ancient Celtic spiritual tradition. Samhain was celebrated in the northern hemisphere from 31 October to 1 November to welcome in the harvest and usher in "the dark half of the year." Celebrants believe that the barriers between the physical world and the spirit world break down during Samhain and the veils between worlds become thinner.
At this highly charged energetic time the Blue Moon will fall very close to the planet Uranus, the planet of liberation, revolution, equality and freedom and modern day ruler of the sign of Aquarius.  Occurring just before the US election we may see strong feelings coming to a head together with potentially another wave of social unrest and protest. Individually we might feel pulled to break out, loosen our chains and speak our truth as we prepare to usher in the Age of Aquarius.
Mercury the planet of communications and connection turns retrograde on the 14th October, at 11°40 Scorpio. Mercury continues to be retrograde until 4th November at 26° Libra (3rd November US time) – the day of the US election. Some astrologers are speculating that there may be delays in the election or the election result, or potentially in the inauguration of the next president.  On a personal level Mercury retrograde is a great time to review, revise, revisit, rethink, reconnect, renew and regenerate.
*All times and dates Sydney local time.