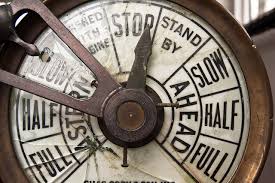 The concept of retrograde in astrology refers to an optical illusion from the perspective of the Earth. Retrograde motion is an apparent change in the movement of a planet through the sky because of its position and speed of movement around the Sun relative to the Earth.  Planets do not physically start moving backwards in their orbit but just appear to do so from our point of view on Earth.   Imagine two trains are leaving a station at the same time. If you are on the faster one, the one beside you appears to be going backwards; even though they are both actually moving forwards. The appearance of retrograde motion occurs because of the relative differences in speed.
Although it is not unusual for the outer planets Pluto, Neptune and Uranus to spend a number of months each year in retrograde, the majority of planetary movement is direct or forward which is regarded as the norm.  Retrograde motion is therefore against the normal flow and may represent an exception or challenge; often experienced as disruptive or frustrating. Planets slow down and stop (station) as they approach retrograde and this is mirrored in pace of life slowing down and even grinding to a halt.
All planets, with the exception of the Sun and Moon (which technically aren't planets but Luminaries) go retrograde at different times and for different periods.  Rather than resist this tuning of the tide, we need to accept and embrace these periods as opportunities to shift our perspective.  During these times we turn our attention to the past, go back over old ground and have the opportunity to revisit, rethink, review, reconnect, renew and regenerate.  We may bump up against physical, mental and emotional blockages which we have the chance to clear during a retrograde period.
The personal planets Mercury, Venus and Mars are all at their closest to the earth during their retrograde periods; intensifying their highly personal and challenging impacts and effects which can require significant adjustments to individual behaviour, thinking and ways of being.
Currently and very unusually, all of the outer and social planets are in retrograde. Flow with and make the most of this retrograde energy by:
Pluto retrograde 26 April at 24°Capricorn – 5 October at 22°Capricorn
Delving into the personal underworld of your shadow, hidden limiting beliefs and entrenched unconscious patterns. Watch out for power and control issues emerging and observe where you are giving your power away or allowing others to drain your power.  Transform power dynamics.
Saturn retrograde 11 May at 1° Aquarius– 29 September at 25° Capricorn
Reviewing structures in your life and how you perceive and exercise and interact with authority. Reclaim your personal authority.
Jupiter retrograde 15 May at 27°Capricorn – 13 September at 17°Capricorn
Revisiting travel plans, reengaging with studies, reconnecting with philosophies or higher learnings, reexamining and redefining your belief systems.
Neptune retrograde 23 June 2020 at 20°57' Pisces – 29 November 2020 at 18°09′ Pisces
Resuming a creative project, recommiting to a mediation practice, undertaking healing on blockages and old wounds which may resurface.
Uranus retrograde 16 August 2020 at 10°41′ Taurus – 14 January 2021 at 6°43′ Taurus
Revisiting the impact of recent unexpected changes and gain a different perspective; allowing you to move forward in a new more liberated and authentic way.
Chiron retrograde 12 July 2020 at 9°26′ Aries – 16 December 2020 at 4°56′ Aries
Resolving to gently explore inner wounds and vulnerability and let go of any residual energy which is holding you back.  In Aries you may confront repressed anger and allow that to be gently released.
Look at your personal astrology chart to see which area of your life (house) is being impacted by each of these planets in retrograde.